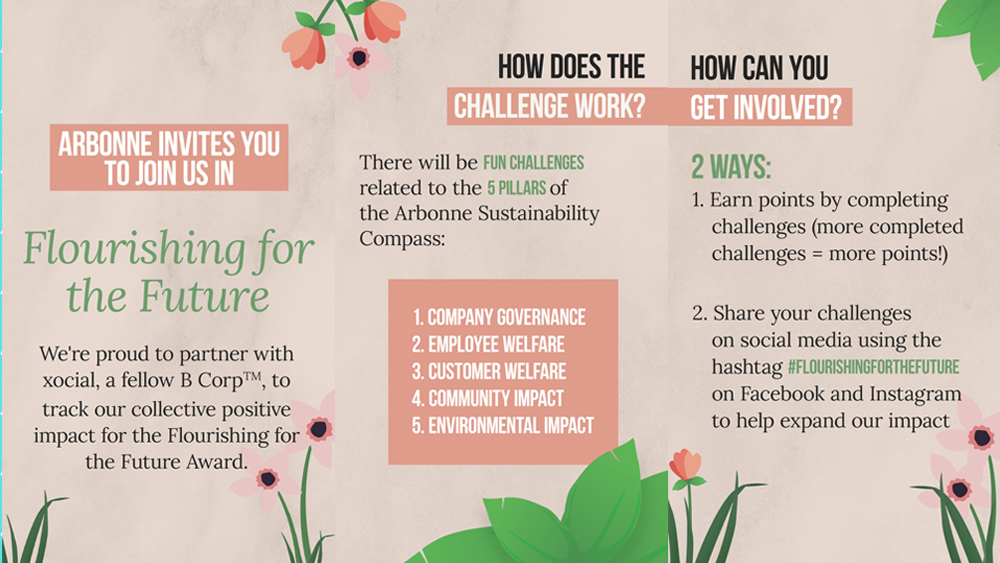 Why are we doing this?
To make a positive impact and uplift people and planet while spreading Arbonne's mission to empower sustainable healthy living! Arbonne is part of a global movement of companies committed to using business as a force for good by balancing profit with purpose. To help support our values, we are launching the Flourishing for the Future award to celebrate the behaviors that support our community and our planet.
Independent Consultants (ICs) will be awarded points for each qualifying photo or proofpoint submission on the Flourishing for the Future website. Throughout the year, we will also run limited time challenges that you can participate in to earn bonus points while also continuing to support people, the planet and the Arbonne community. The more challenges you complete and the more you share on social media, the more points you will receive.
To hold us accountable, we'll be measuring our community's total impact against our Sustainability Compass and the United Nations Sustainable Development Goals. (https://sdgs.un.org/goals)
Join in the fun to help us be the best company for the world!
My Scorecard
My Team Scorecard